AppVentiX, a proven real-time
application life cycle management
solution for App-V and MSIX
Powerful, yet light weight and easy-to-use.
AppVentiX supports the following platforms:
Microsoft Remote Desktop Services (RDS) and WVD (Windows Virtual Desktop)

Citrix environments (VDI & RDS)

VMware environments (VDI & RDS)

Fat client & laptop deployments
AppVentiX supports both Cloud and On-premises deployments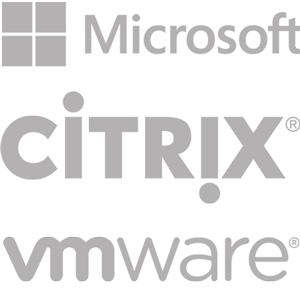 Support for App-V and MSIX
App-V is well known for its application compatibility and is used by a lot of companies worldwide. We are committed to App-V and will continue to support and add new features to it. We also expanded our solution to support the new MSIX packaging format. With AppVentiX you can now manage App-V and MSIX side by side in the same convenient way.
Advanced Cache Management
Advanced cache management options for both persistent and non-persistent scenarios. AppVentiX supports RDS, VDI and FAT client deployments. For persistent environments AppVentiX offers advanced cache management capabilities to keep the cache clean and in balance.
For non-persistent environments AppVentiX contains tight integration with Citrix PVS & MCS image management solutions and advanced cache management options for VMware View & RDS\WVD environments.
The agent is configured centrally and can be fine-tuned for your deployment goals in just a few clicks. 
The App-V and MSIX client settings can be configured in the agent configuration as well, the AppVentiX agent will configure them for you.
Reduce Complexity
No need for (App-V) back-end infrastructure components and complex scripting. AppVentiX provides instant package delivery without timing issues. Provides complete application lifecycle management capabilities and solves all limitations that comes with deploying packages through SCCM and the Full management infra. 
AppVentiX is easy to use and takes no longer than 10 minutes to install and configure.
Centrally Managed
Portable and easy to use remote management console for real-time management of App-V and MSIX packages in your environment. AppVentiX provides features that allow you to perform all actions that are crucial in every application life cycle management process.
With the Central View console you can inventory and manage machines in real-time. Deploy new or updated applications on all machines with just one click.
Publish packages to already logged in users, they don't even have to log off and back on to access their new or updated applications.
Get back in control
No more orphaned shortcuts, no more left overs in user profiles and no more timing issues. AppVentiX takes care of the cache management, the publishing of packages and will also automatically unpublish packages when they are no longer managed. 
Watch this short video where we will show you how easy the publishing and auto unpublishing works.
Support for MSIX AppAttach
With AppVentiX you can manage MSIX AppAttach with just a few clicks, no scripting required. Watch this short video where we demonstrate how easy it is to manage MSIX AppAttach packages.
Highly customizable publishing options
With publishing tasks you can configure which application is integrated in a user's workspace. The package containing the application doesn't have to be pre-cached on the machine it can be deployed on the fly as well. AppVentiX provides advanced publishing options for every use case. 
Manage your environment using AppVentiX Machine Groups
Just select an OU or AD group in Active Directory where the machines are located, for example you can create a production and test machine group, or separate your deployment by location or department.
Machine groups can be configured with content share(s), this is where the packages are located. Optionally you can use DFS shares, Azure file shares, Nutanix files, etc to make your deployment highly available.
AppVentiX Agent GUI
The agent includes a small applet: the Agent GUI, with this GUI you can check the agent state and see which packages are deployed on the machine. You can click on a package and start for example CMD or Regedit inside the virtual environment of the package. You can also check the App-V and MSIX client settings in the Agent GUI.
Screenshot gallery
Check the screenshot gallery to get an impression about all the AppVentiX features and configuration options.